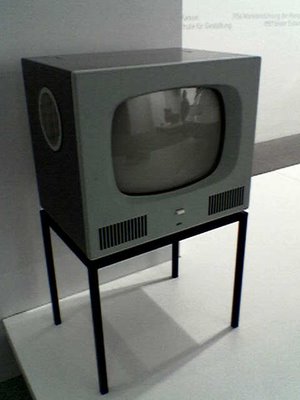 The networks are coming out with their Fall schedules, and here's an early look at some possible contenders for your Fall TiVo lineup.
Six Degrees.
A new one-hour ABC drama from J.J. Abrams, creator of
Lost
and
Alias
(and producer/writer of the 11th upcoming Star Trek film, which fills us Trekkies with hope that the film won't be botched—again), that will run on Thursday nights.
Sci-Fi Wire
reports the one-hour drama "will tell the story of six very different New Yorkers who go about their lives without realizing the effect they're having on one another. Yet. A mysterious web of coincidences will gradually draw the strangers closer, changing the course of their lives forever. Is it happenstance? Fate? Is there a greater force at work in our world, guiding us along and connecting our lives?" The
Washington Post
calls it "the latest is-there-a-greater-force-at-work-here series from the church of J.J. Abrams, the
Lost
and
Alias
exec producer. 'They say that anyone on the planet can be connected to any other person through a chain of six people,' ABC says by way of explaining Abrams's latest concoction." Heh. "Church of J.J. Abrams." Appropriate as Abrams consistently deals with themes about faith and the exploration of larger "plans" in or affecting our ordinary lives. The show currently stars Jay Hernandez, Erika Christensen, Bridget Moynahan, Dorian Missick, Hope Davis and Campbell Scott.
Jericho
. A CBS drama lined up for Wednesday nights about a small town in Kansas after a nuclear apocalypse. Heh, the idea of the world ending in nuclear disaster loomed so large (and was so strongly connected to the "end-times") in my pre-teen and teen years that I remember saying to a friend at camp one year: "If Jesus would just wait to come back until I go to college, fall in love and get married, that would be great." Ack, shows where my faith was at that point. Anyway, 1988 (a Hal Lindsey
Late Great Planet Earth
deadline) came and went, the Berlin Wall came down and life went on. But, ever since my youth, the idea of nuclear apocalypses is automatically associated with God-talk, so I'll tune into this show and see what they do with it.
CBS
gives a bit more info on their site, hinting that "when a baffling explosion occurs in the distance, Jericho's residents are plunged into social, psychological and physical chaos. No one knows what to think, and fear of the unknown takes over the town, especially because its isolation cuts it off from outside help. When nearly everything they know seems gone, will the residents of Jericho band together to face their unfamiliar and mysterious new world? Skeet Ulrich (
Scream
,
As Good as It Gets
) stars."
Zap2It
muses, "It's certainly an interesting idea: How would you react if suddenly your connection to the rest of the world vanished? The nuclear disaster shown in the pilot looks to be a bit of a MacGuffin, used to spark the characters' reactions. There were hints of other strange things too, though, and eventually the cause of the calamity will have to be cleared up. It's easier to care about a character when you have at least some sense of what they're up against."
ComingSoon
reports the executive producers are Ridley (of the
Alien
phenomenon fame) and Tony Scott.
Shark
. Another CBS drama, this one starring James Wood (a fav of mine) who portrays (according to
TV Guide
) "a flashy defense attrorney who decides to become a prosecutor." Criminal justice shows eventually tread on religious and faith themes (if they are anything like
Law & Order
), so perhaps this one will too. Spike Lee is
reportedly
directing Woods, so hard-core social themes are close to guaranteed.
Heroes
. The
already-
mentioned
-by-this-blog
NBC sci-fi drama, which, according to
NBC
, follows several characters who "thought they were like everyone else... until they woke with incredible abilities. In Japan, a lowly office worker can teleport at will. In New York, a struggling artist can paint the future. In Los Angeles, a discontented beat cop can hear the thoughts of others. Elsewhere, a high school cheerleader discovers she is unbreakable and a single mom realizes she has a powerful alter ego. Heroes chronicles the lives of these people and the lives of others like them – whose destiny just might be saving humankind." An added tidbit: NBC.com will run weekly updates on an "original, animated graphic novel that follows new hero adventures." Why are comic book type shows on this blog? See
here
. For more NBC dramas of interest to this blog, see
here
.
An here's one more interesting tidbit, in case you haven't already heard:
7th Heaven
got such good ratings on it's series finale, it is returning for an 11th season.
(Image:
Braun HF 1
by
Oliver Kurmis
)